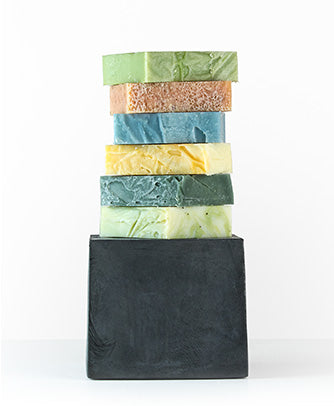 Slab Soap Club
Freshness Delivered to Your Doorstep.
Life's crazy enough, and we offer a little bit of everything, so we decided to make life a little easier on you so that you have more time to do the things you want to do. We created the Slab Soap Club so you have one less box to check off of your to-do list. From our Seasons Subscription to our Classics Subscription, each of our curated collections will leave you feeling refreshed and invigorated. Sign up today and we'll deliver fresh, handcrafted soap directly to your doorstep, free of hassle, every quarter.
the seasons subscription
With every season comes new experiences and adventures. To celebrate each shift, we decided to curate half dozen quarterly selections based on classic scents that truly capture Spring, Summer, Fall, and Winter.
The Seasons Subscription ships early enough each quarter for you to enjoy the anticipation of the shift and packs enough soap for you to savor the aromas all season long. Enjoy the hassle free delivery of the scents of every season with Slab's fresh, handcrafted soaps delivered right to your doorstep.
SEE WHAT'S INSIDE?
Endless Summer Tropics
Awapuhi Seaberry
Bay Rum + Lime
Coconut
Loggerhead
Pikaki
Plumeria
Endless Summer Timber
Basecamp
Carbon PW
Eucalyptus Spearmint
Gin + Juice
Southern Charm
Sweetgrass
Fall Harvest
Cranberry Orange
Clove
Vanilla
Orange Spice
Pumpkin Spice
Oatmeal Cookie
Fall Hunt
Anise Star
Basil Mint + Coffee
Irish Tweed
Cedarwood Mint
Cedarwood Mint
Oregon Grit
Winter Wonderland
Plum Spice
Orange Clove
Frankincense + Myrrh
Candy Cane
Fireside Spice
Tannenbaum
Spring Fresh Scent
Rosemary + Lemon
Heather + Moss
Litsea Oatmeal
Eucalyptus Lavender
Ginger Citrus
Olive Blossom
the CLASSICs subscription
Classics never fade. From a solid pair of blue jeans to a barbeque on the Fourth of July, some things are just timeless. Slab's master soap makers carefully curated a selection of classic, fresh scents to keep you clean.
The Classics Subscription ships every quarter so that your stock of timeless scents never runs dry. Unless you live with pigs and if that's the case we won't ask. Enjoy the hassle free delivery of classic aromas every season with Slab's fresh, handcrafted soaps delivered right to your doorstep.
SEE WHAT'S INSIDE?
Cranberry Orange
Avocado Butter
Peppermint Oatmeal
Lemongrass
Oregon Lavender
Activated Charcoal